Virtual Storytime To Go!
Children will enjoy weekly themed Storytime crafts paired with our online resources to create an interactive Virtual Storytime. Weekly Craft Kits will be available beginning Monday, October 5 and run for eleven consecutive weeks! Make an appointment to visit the library each week to pick up your Virtual Storytime Craft Kit. Call the Children's Department at 631-929-4488 ext. 223.
---
---
---
The North Shore Public Library Presents The 2020 Summer Reading Club!
Look to this promotional video below for fun ways to create a profile and avatar for your child, view all possible prizes, and see how the 2020 Online Summer Reading Club will work!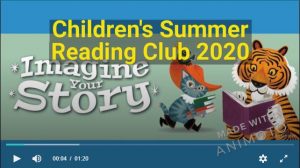 Please see below to sign-up for the 2020 Summer Reading Club, as well as downloadable and printable copies of the Summer Reading Club Directions and the Summer Reading Club Reading Log to keep track of all your reading!
Download the READsquared App on your phone or tablet and search for North Shore Public Library! Use the app to join the Summer Reading Club and track your reading!
---
---
---
---
COVID-19 and Children
Below is a link from the New York City School Library System which has a collection of free eBooks in multiple languages for children about the Coronavirus / COVID-19. After clicking the below link you can access the books by clicking on their cover.
Here are a few other useful links for parents and children regarding COVID-19:
The COVID-19 Time Capsule
The COVID-19 Time Capsule is created by Long Creations – and gives your child an opportunity to document what we're going through. They can write about how they are feeling, what's happening at home and in their communities. It's something to save and look back on at the role they played in this historic moment.
---
---
Brainfuse: Summer Skills Camp
Keep learning every day! Visit the Summer Skills Camp for fun learning activities. Click the image or the link below!
---
AMERICAN LIBRARY ASSOCIATION ANNOUNCES 2020 AWARDS
Newbery Medal: New Kid by Jerry Craft
Caldecott Medal: The Undefeated, illustrated by Kadir Nelson, written by Kwame Alexander
---
New York State Adoption Services
Children of all ages are waiting to be adopted. New York State Adoption Service (NYSAS) welcomes responsible, caring adults who are ready to share their time, their hearts, and their lives with our waiting children. When you adopt a waiting child, you will be giving that child a permanent family and another chance in life. All children deserve a loving, committed, safe, and permanent family. Website
---
Ellison Machine
The library has two Ellison Paper Cutting Machines along with a full collection of dies. Use this tool to cut out letters, numbers and shapes to decorate your classroom, to make simple craft projects and for scrap-booking. Please supply your own materials. Click here for a list of all available dies.