---
---
---
---
Take and Make Programs
For a full listing of the upcoming Take and Make programs, please click the link below. Registration dates are listed next to each programs registration link.
---
In Library Programs
Late Arrival Guidelines

: A grace period of 10 minutes will be given to patrons attending a program. Admittance after this arrival time is at the discretion of the library staff.
---
Community Service: Painting for a Purpose, Grades 6-12
Tuesday, December 13, 7:00-8:00 PM
Earn one hour of community service by painting a piece of art to be donated to the residents of a local nursing home!
---
Holiday Cupcake Wars, Grades 6-12
Thursday, December 22, 7:00-8:00 PM
Decorate holiday-themed cupcakes and compete for prizes during our Holiday Cupcake Wars! This program may not be suitable for those with food allergies.
---
Air Fryer Chicken Parmesan Sliders, Grades 6-12
Tuesday, December 27, 6:30-7:30 PM
Join Chef Rob Scott for dinner at the library as we make delicious chicken parmesan sliders in the air fryer!
---
Chocolate Chip Muffin Tops, Grades 6-12
Saturday, January 14, 11:00 AM-12:00 PM
Why bother with the whole muffin when you can just eat the top! Join Chef Rob Scott as we make delicious chocolate chip muffin tops.
---
Community Service: Birthday Kits for Charity, Grades 6-12
Tuesday, January 24, 7:00-8:00 PM
Earn one hour of community service as we create special birthday celebration kits that include cake mix, cards and a gift! Kits will be donated to those in need.
---
---
Brainfuse!!!
Below are three examples of the amazing Brainfuse! Whether it be for homework help, games, interview prep for jobs, and even resume help, Brainfuse is the very valuable and helpful resource to check out. Click the following link to get to Brainfuse, and take a look below for some of the important topics Brainfuse can help with!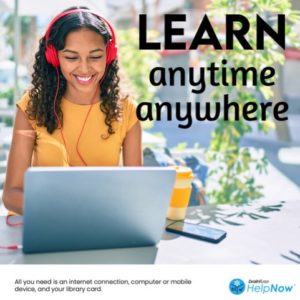 Brainfuse – HelpNow: No matter where you are, get free live online homework help, play games, take practice tests, and learn. Connect with a live tutor from any device with an internet connection.
---
Brainfuse – JobNow: The best way to have a successful interview is to be prepared. Connect with a JobNow interview coach to practice interviewing and learn tips to help you prepare.
---
Brainfuse – VetNow: A great resume is essential to landing the right job and there are elements that will help you stand out from other applicants. Use the VetNow resume help to connect with a resume coach or use the resume lab for a free professional resume review.
---
---
Young Adult Book Lists!
---
---
Community Service Opportunities
For a variety of options regarding community service or volunteering opportunities, click the below link. New opportunities are added when they come up!
---
---
19 Webcomics To Keep Kids and Teens Engaged
If you are looking for ways to keep your comics-loving kids and teens occupied, try these free webcomics promise to eat up hours of time.
---
---
Long Island Aquarium Learning Resources & Crafts
Long Island Aquarium Educators have designed age-appropriate learning resources and activities for grades K-12. The lesson plans focus on the animals found at Long Island Aquarium and highlight their taxonomy and adaptations. While they can be used solely in the classroom, these lesson plans also include activities specifically for use when touring the Aquarium.