---
---
If you need to contact a Librarian or need help with your library card, please see below:
---
---
---
In Library Programs
Chocolate Painted Waffle Ice-Cream Cones, Grades 6-12 **In Library**
Wednesday, July 6, 7:00-8:00 PM
Join Chef Rob Scott at the library as we coat waffle cones with chocolate and rainbow sprinkles then fill them with fruits and brownies!
---
Yoga & Mindful Art, Grades 6-12 **In Library**
Saturdays, July 9, 16 & 23, 10:00-11:30 AM
North Shore certified Yoga instructor and Artist Laura Ricca will teach you the benefits of including yoga in your daily life as you experience the healing powers of traditional yoga, followed by a meditative mindful art project. Please bring your yoga mats! (7/9-7/23)
---
Community Service: D.I.Y. Beach Totes, Grades 6-12 **In Library**
Tuesday, July 12, 1:00-2:00 PM
Make a cute and functional beach tote using ocean themed stencils that will then be donated to a local nursing home. One hour of community service will be awarded for attendance.
---
Air Plant Clay Jellyfish, Grades 6-12 **In Library**
Thursday, July 14, 7:00-8:00 PM
Create a jellyfish shaped air plant holder and learn how to care for your new plant!
---
Gone Fishing Cupcakes, Grades 6-12 **In Library**
Thursday, July 21, 2:00-3:00 PM
Join Chef Rob Scott as we decorate delicious cupcakes to take home and devour!
---
Sea Turtle Pebble Art, Grades 6-12 **In Library**
Tuesday July 26, 1:00-2:00 PM
Create a piece of art using paint, mod podge, sand and pebbles. Please bring at least 10 pebbles/rocks in assorted sizes to class.
---
One Enchanted Evening!! – Community Service: Chalk Art Festival, Grades 6-12 **In Library**
Friday, July 29, 5:00-8:00 PM
Earn three hours of community service as you help with our annual chalk art festival. Volunteers will help librarians run the program as well as create some chalk art for inspiration before the festival begins.
This program is during hours in which the Library is normally closed. Instead, the evening of July 29th, NSPL will be open until 9:00 PM!
---
Gourmet Campfire Marshmallows, Grades 6-12 **In Library**
Wednesday, August 3, 6:30-7:30 PM
Join Chef Rob Scott as we dip marshmallows into chocolate and coat them in delicious toppings.
---
---
Battle of the Books 2022, Grades 6-9
Mondays, June 27, July 11, 18, 25, August 1, & 8, 7:00-8:30 PM
Final Battle: Saturday, August 13, 12:00-4:00 PM 
Battle of the Books is back this year and in a different format! Join us as we read six books this summer and prepare for a giant trivia game against other libraries in Suffolk County! Check out our YA Instagram on Monday, 5/16, when we announce the six titles. Program is for teens entering grades 6-9 in Fall 2022. 
---
---
Take and Make Programs
For a full listing of the upcoming Take and Make programs, please click the link below. Registration dates are listed next to each programs registration link.
---
---
Brainfuse!!!
Below are three examples of the amazing Brainfuse! Whether it be for homework help, games, interview prep for jobs, and even resume help, Brainfuse is the very valuable and helpful resource to check out. Click the following link to get to Brainfuse, and take a look below for some of the important topics Brainfuse can help with!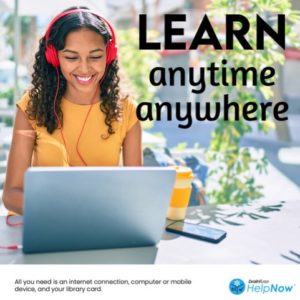 Brainfuse – HelpNow: No matter where you are, get free live online homework help, play games, take practice tests, and learn. Connect with a live tutor from any device with an internet connection.
---
Brainfuse – JobNow: The best way to have a successful interview is to be prepared. Connect with a JobNow interview coach to practice interviewing and learn tips to help you prepare.
---
Brainfuse – VetNow: A great resume is essential to landing the right job and there are elements that will help you stand out from other applicants. Use the VetNow resume help to connect with a resume coach or use the resume lab for a free professional resume review.
---
---
Young Adult Book Lists!
---
---
Community Service Opportunities
For a variety of options regarding community service or volunteering opportunities, click the below link. New opportunities are added when they come up!
---
---
19 Webcomics To Keep Kids and Teens Engaged
If you are looking for ways to keep your comics-loving kids and teens occupied, try these free webcomics promise to eat up hours of time.
---
---
Virtual Coding Clubs
Sign up for coding clubs lead by Vidcode coding experts. These meetings are held each Tuesday, at 3:00 PM. This is great for coders of all experience levels (age 11 years old and up).
---
---
Long Island Aquarium Learning Resources & Crafts
Long Island Aquarium Educators have designed age-appropriate learning resources and activities for grades K-12. The lesson plans focus on the animals found at Long Island Aquarium and highlight their taxonomy and adaptations. While they can be used solely in the classroom, these lesson plans also include activities specifically for use when touring the Aquarium.